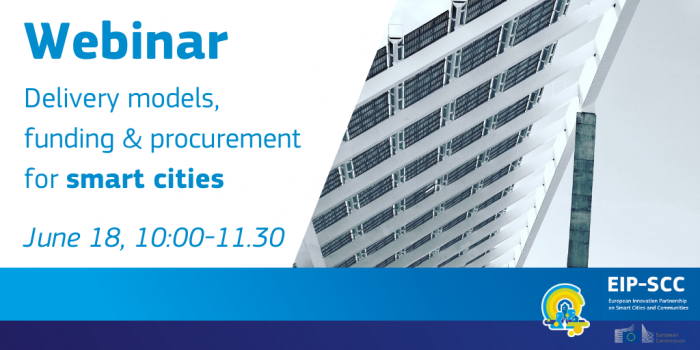 On 18 June – 10 to 11:30 CEST, the webinar series of the EIP-SCC Marketplace team continued. The third online seminar covered the 'Delivery models, funding & procurement for smart cities' alongside four different case studies.
The premise for the webinar was the key role city governments have in planning, delivering, and ensuring the uptake of smart technologies. The key to success is to define this role adequately.
Georg Houben, EIP-SCC Policy officer at the European Commission opened the webinar alongside Philipp Tepper, Senior Coordinator at ICLEI Europe. They both highlighted the importance of fostering sustainable and resilient Smart Cities in the recovery from COVID-19.
Introduction:
{"preview_thumbnail":"/sites/eu-smartcities.eu/files/styles/video_embed_wysiwyg_preview/public/video_thumbnails/UbH4-NsVGQ4.jpg?itok=IpWQI9jl","video_url":"https://youtu.be/UbH4-NsVGQ4?t=2","settings":{"responsive":1,"width":"854","height":"480","autoplay":0},"settings_summary":["Embedded Video (Responsive)."]}
Dr. Luise Noring of City Facilitators presented the first of the four complementary delivery methods, 'cities as regulators', sharing work done in Copenhagen to unlock public wealth by creating publicly owned and professionally managed corporations:
Cities as Regulators
{"preview_thumbnail":"/sites/eu-smartcities.eu/files/styles/video_embed_wysiwyg_preview/public/video_thumbnails/UbH4-NsVGQ4.jpg?itok=IpWQI9jl","video_url":"https://youtu.be/UbH4-NsVGQ4?t=779","settings":{"responsive":1,"width":"854","height":"480","autoplay":0},"settings_summary":["Embedded Video (Responsive)."]}
Next up was Gonzalo Cabezas, Project Manager from the City of Barcelona sharing the City's work to 'facilitate the delivery' of smart last-mile-delivery in a historic part of Barcelona. This was done as a part of the European Smart Cities project GrowSmarter:
Cities as Facilitators
{"preview_thumbnail":"/sites/eu-smartcities.eu/files/styles/video_embed_wysiwyg_preview/public/video_thumbnails/UbH4-NsVGQ4.jpg?itok=IpWQI9jl","video_url":"https://youtu.be/UbH4-NsVGQ4?t=2026","settings":{"responsive":1,"width":"854","height":"480","autoplay":0},"settings_summary":["Embedded Video (Responsive)."]}
Sharing innovative work done in the Fabulos project, in which six cities collectively procure R&D for the prototyping and testing of smart systems capable of operating a fleet of self-driving minibuses in urban environments on pre-procurement, was Project Coordinator Renske Martijnse-Hartikka:
Cities as Procurers
{"preview_thumbnail":"/sites/eu-smartcities.eu/files/styles/video_embed_wysiwyg_preview/public/video_thumbnails/UbH4-NsVGQ4.jpg?itok=IpWQI9jl","video_url":"https://youtu.be/UbH4-NsVGQ4?t=3599","settings":{"responsive":1,"width":"854","height":"480","autoplay":0},"settings_summary":["Embedded Video (Responsive)."]}
Finally, to share the innovate work done in Rotterdam to create a digital city, which has been bolstered by the European Smart Cities project RUGGEDISED, was Roland van der Heijdeen, Programme Manager for the City of Rotterdam:
Cities as partners
{"preview_thumbnail":"/sites/eu-smartcities.eu/files/styles/video_embed_wysiwyg_preview/public/video_thumbnails/UbH4-NsVGQ4.jpg?itok=IpWQI9jl","video_url":"https://youtu.be/UbH4-NsVGQ4?t=4616","settings":{"responsive":1,"width":"854","height":"480","autoplay":0},"settings_summary":["Embedded Video (Responsive)."]}
You can download all the slides here or those covering each delivery model below: