Interview with Marek Stawinski, founder of NaviParking and a "Zero Emission Ambassador" for Poland in the Intelligent Mobility for Energy Transition (IMET) initiative. 
What is NaviParking's IMET Pan-European Park and Charge Architectural Framework project about? It sounds complicated.
 
The project is about an architectural framework for charging electric vehicles aiming to provide an accessible platform within an electromobility value chain and to facilitate other partners to join the ecosystem. Its ultimate goal is to help in the process of a transition into more balanced mobility and in achieving carbon neutrality. Having harmonized data standards and a unified way to access and pay for EV charging service, the project has the potential to become a catalyst for a wider adoption of electric vehicles - by privateand public users as well as business owners of EVs cars. Overall, upgrading on a city level the current processes regarding charging electric cars and transformation into digitally-enhanced, future-proof EV charging operations, will add more "smartness" and will help cities in moving to the next level of digital transformation. This digital transformation is at the same time aligned with the EU Green Deal strategy. 
 
Nowadays everybody's talking about benefits, cut to the chase – who can benefit out of it? 
 
In general: municipalities, citizens, parking owners and electric charging station operators. One of the well-known blockers of EV adoption in (not-only) EU cities is the siloed charging network. There are dozens of operators, all requiring their own app, sign-up or even an RFID key. When travelling across EU Member States it gets even more complicated which limits a convenient and international use of EVs.
 
One of the crucial benefits brought by the NaviParking as a Service (NPaaS) API is seamless integration with any third-party parking infrastructure or EV charger provider. This removes obstacles like parking access and payment, enabling both suppliers of EV chargers and drivers of electric cars to access off-street parking in order to charge. We all know that limited on-street space for EV chargers is an important factor blocking the "EV-olution", and cities need to broaden the repository of EV charging spots by using existing parking infrastructure of fenced facilities. 
 
In specifics, the unique value of this Pan-European NPaaS Platform is digitalization of parking assets and making them accessible by IMET stakeholders to EV charger suppliers, e-transportation and e-logistic service providers.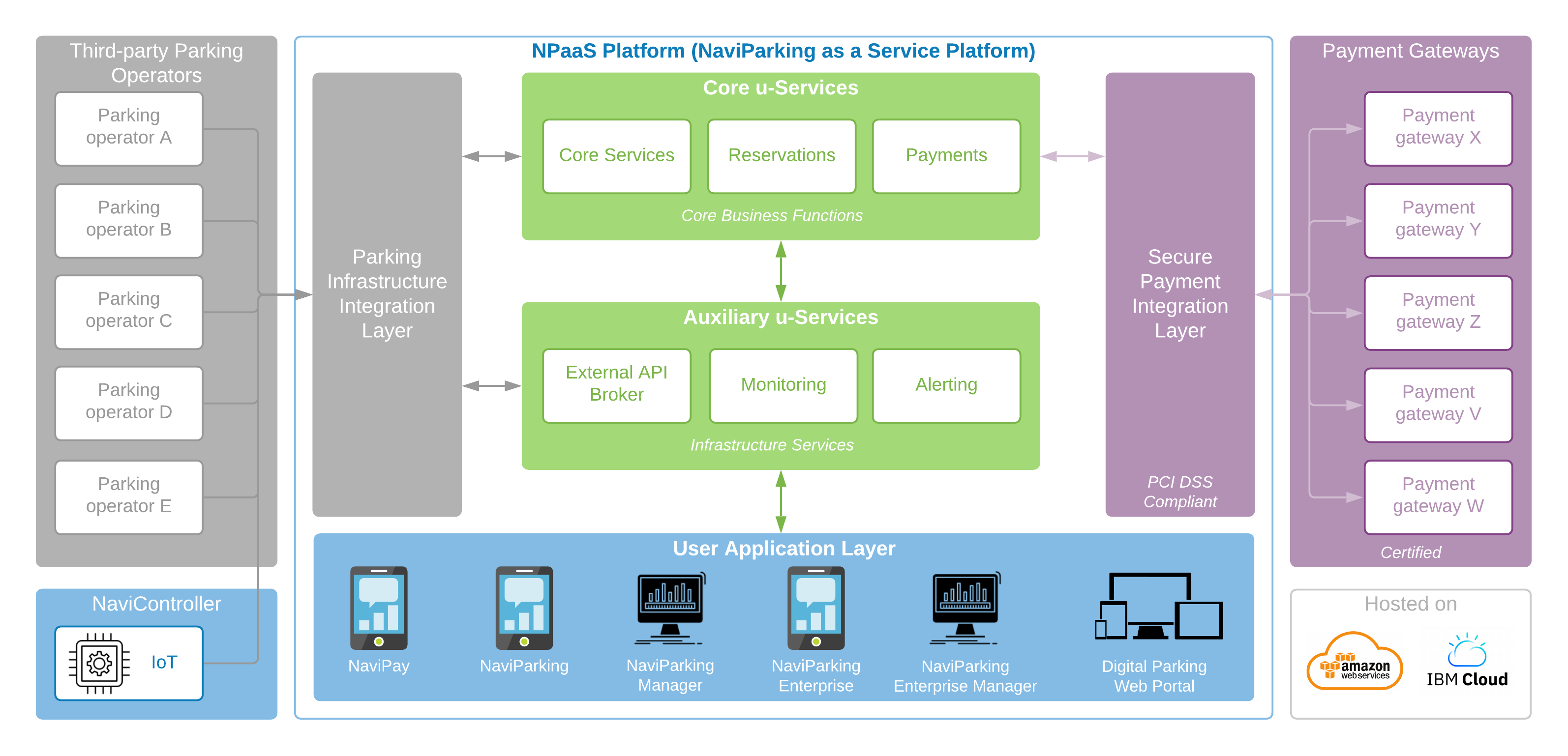 Are you suggesting that with this solution, cities can increase the existing area of parking spaces by unlocking additional space?
 
Exactly, thanks to digitalization, parking spaces with restricted access can be transformed into accessible space, which can and should be included in the EV infrastructure expansion. Every area with fenced access can be digitized, added to the grid and equipped with EV charge points. This would also be aligned with the EU legislation on energy efficiency in buildings and requirements to install EV chargers (depending on the number of parking spots they have). Digitalization of off-street parking assets can unlock the potential of unused parking capacity for becoming Hubs for electrical transportation and new mobility services. This approach will also solve the issues like ICE vehicles parked on charging spots in city centers. Virtualization of parking facilities has the potential to disrupt several industries. As Salim Ismail once said, "When you digitize, things are becoming very disruptive". Similarly, like we now enable parking space sharing, the Park&Charge service will make it possible to "share" EV chargers with other customers.
 
This smart-parking enabled, future-oriented business strategy, opens up new possibilities to manage an access to electric taxi and electric logistics fleets. Overall, it provides an opportunity for facility owners and cities alike to increase the citizens' awareness about e-mobility and green parking spaces as well as promote themselves from the angle of supporting net zero goals. 
 
It seems like a lot of potential, but what about financing? Can you describe your business model?
 
Scalability is key. The framework is oriented to a win-win scenario, where everyone can participate regardless of the used technology. On the one hand, our platform enables the connection of a variety of charger makes, suppliers, devices or operators via standardized API. On the other hand, a unified user interface will simplify and make it easier to use the app-based access to parking and charge points across EU cities. 
The drafted framework decouples parking access from EV charging technology, allowing to drive the standardization of such services as Park & Charge, Park & eRide, Park & eTaxi etc. The approach was to design and implement a flexible modular platform that can be easily expanded by pluggable building blocks. For example, based on a B2B agreement - parking owners can lease their place for EV charger installation and monetize from it.
 
Regarding business models – both fee commission and license models are equally suitable for this cooperation.
 
What challenges are you facing? 
 
The market of EV charging operators is in strong rivalry and in general not willing to work on common standards, making cooperation difficult and slowing down the pace of innovation. Unfortunately, the one who loses in this competition is the end-customer. The common problem for EV charger is also the lack of standardization, which means that EVs owners face not universal technology. ICE vehicles are easy to use because of universal, but costly gas stations where traditional payments are made by cash or card. Here, a wide range of potential new EVs owners are worried about the EV stations coverage, access, multiple apps, payments and are just unsure of what they will have to face. From a B2B point of view, there are challenges from a legal and accounting perspective regarding to selling and invoicing for "charging services". Most of the legislation regarding electromobility refers to public EV chargers, and not private ones located on privately-owned plots, which does not help in accelerating the time-to-market. 
  
What would you recommend to policy makers?
 
Like many times before in the history of European Communities the EU can encompass this new field of rivalry and enable supranational cooperation by supporting a common platform for the benefit of EU citizens. We are talking about a common standard of EV charging services which will be provided by different vendors (both private and public) but with fair open access to the platform and with a friendly and common interface for the user. It's not about imposing one or another charging standard by law or other means. The answer to the issue lies in easy and transparent growth of EV charging stations integrated in one common architectural framework based on the Plug & Play principle and a unified parking access control API.
Referring to other Smart City international initiatives promoting data sharing and standardization (like City-as-a-Platform by TMForum, Open and Agile Smart Cities, or FIWARE), it would be worth to create an organization aimed to develop and maintain a uniform global standard for EV charging services to facilitate integration and compatibility between digital parking ecosystem stakeholders.   
Useful Links