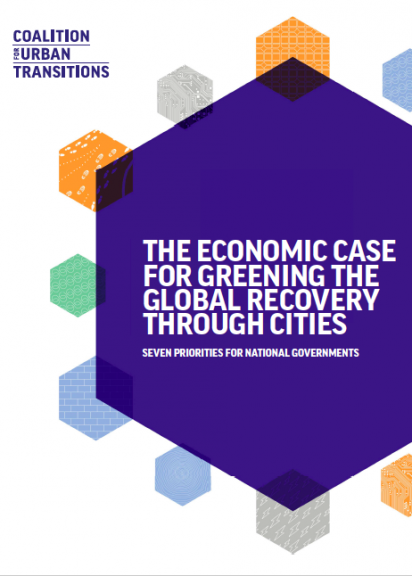 This paper demonstrates how national government decision-makers and key urban stakeholders can shape fiscal stimulus packages for a green, resilient and inclusive economic recovery in the aftermath of the global COVID-19 pandemic.
In light of the measures being considered to support economic recovery in the wake of COVID-19, national governments can steer their fiscal stimulus efforts towards investing in sustainable cities, creating numerous green jobs today and decisively opting for low carbon economic prosperity tomorrow. 
Cities are at the epicentre of the COVID-19 crisis
To date, the global conversation has been centred around the immediate impact in cities in terms of public health, how the lives of urban residents have come to a grinding halt, and how the impact is being borne disproportionately by the poor and vulnerable in urban areas. But the crisis has also demonstrated the critical importance of cities. The writing on the wall is clear: when cities stop working, so does the global economy. And now that national governments and international financial institutions are already pledging unprecedented levels of funding to revive economies, it is critical that this stimulus is directed to the places and people that are most impacted – cities and their residents.
This paper therefore sets out the economic case for national governments making major investments in sustainable cities and in urban infrastructure, to stimulate a green, resilient and inclusive recovery while creating local jobs, particularly for vulnerable groups. We identify seven priorities for  investment, with actionable policy proposals to transform cities. These investments are in the areas of construction and real estate, clean mobility, renewable energy, active transport, nature-based solutions, waste and resources, and research and development for clean technologies. Chosen on the basis of criteria such as the potential to generate jobs and social, environmental and health co-benefits, investments in these areas are financially sustainable beyond this initial stimulus.
The research shows that if the stimulus is directed at these sectors, it can create much needed economic security in the short term, while at the same time making rapid strides towards the longer-term goal of low-carbon economic prosperity.
Find the full report here.