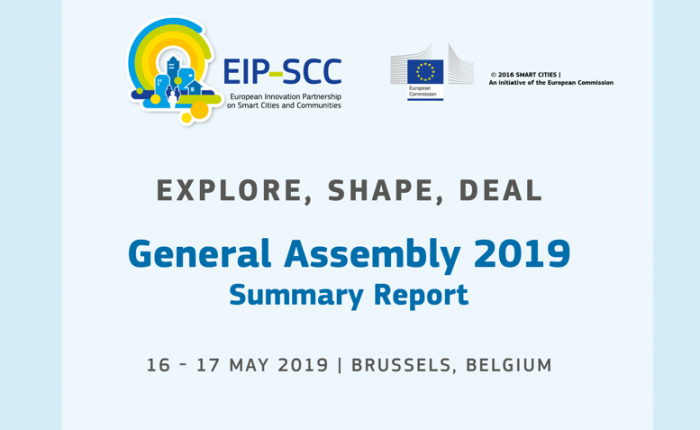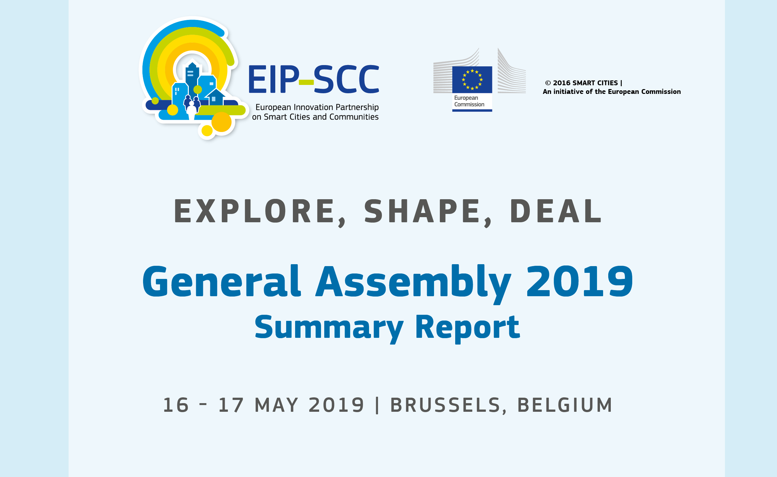 EIP-SCC General Assembly 2019
The 2019 General Assembly was designed to provide EIP-SCC stakeholders with a more intimate opportunity to network, with an increased mix of smaller working sessions.
The event followed the now familiar "EXPLORE, SHAPE, DEAL" format that seeks to: inform and stimulate innovation; network and develop action plans; and discuss investment in specific project opportunities. 
The EIP-SCC published its "Towards a Joint Investment Programme for European Smart Cities" white paper in 2018, which provides the market context for the Marketplace, and proposes 21 Action Lines to help move the market forward. This provided a foundation stone for the 2019 General Assembly. 
Strategically, Horizon Europe will result in 'Missions' across a variety of vexing cross-cutting societal challenges in Europe, and a "Climate-neutral and Smart Cities" Mission is presently being shaped for the new programming period. 
The GA2019 included:
A stimulating keynote from Antoni Vives, prior EIP-SCC High-Level Group member, prior Deputy Mayor of Barcelona, and currently Chief Development Officer for the $500 billion NEOM development in Saudi Arabia. "A City called Europe"…Antoni called for greater levels of collaboration at political levels and more, to set a foundation for scale improvements
Three panels on the morning of the 16th May followed the natural flow of urban developments and more particularly discussed the need to shift our approach and mindset in tackling urban transformation challenges
-  A Cities Panel discussed the evolution of demand, and the opportunities to support scale adoption through a more collaborative and common approach to design, and potentially aggregation of demand – particularly looking at the whole cities market: large and small cities; advanced and those that are not so
- An Industry Panel looked at what changes Industry players need to consider to support a more fluid smart cities market, with more open affordable and scalable solutions – i.e. to create a market that is levelled to provide an opportunity for large business and SMEs
- An Investor Panel explored how to improve the knowledge within cities on financing and funding; increase skills and strengthen alignment between the investor and cities communities; and 'blend' funds between public and commercial sources to support rapid scale adoption in the market
Parallel activities during the afternoon of 16th May and morning of 17th May, that participants pre-selected, and covered: 
- Explore Zone involving banners on all EIP-SCC Initiatives, together with additional content rich Poster Boards providing additional facts and insights for these initiatives. The Explore Zone was also joined by a number of related EU-funded and/or supported initiatives and projects
- Shape Tables that dived into more detail for all of the EIP initiatives to communicate the work underway, assets delivered, and to develop more specific action plans to enrol the market
- Deal discussions, "Matchmaking", brought together project promoters with investors to have more specific discussions on funding actions in the market. 
In addition, there were ample opportunities for ad hoc meetings and networking amongst participants. 
A Mission "Have Your Say" board was prominent in the networking area to explain what the new mission was about, and to collect suggestions from participants against the 5 Mission criteria.
The GA in numbers: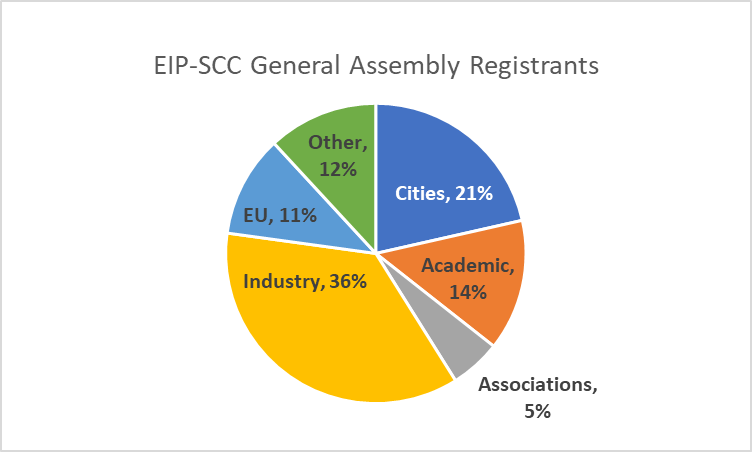 268 people registered for the event; 188 attended, with a broad mix across sectors (see pie-chart)
The majority of the EIP-SCC initiatives and SCC01 Lighthouse programmes were represented. 
20 EIP initiatives were presented in the Explore Zone
…together with 6 other related EU-funded projects and associations
19 Shape Table sessions were held
14 Deal matchmaking meetings were arranged between project promoters and investors
And finally, 46 specific suggestions were offered on the Mission "Have Your Say" board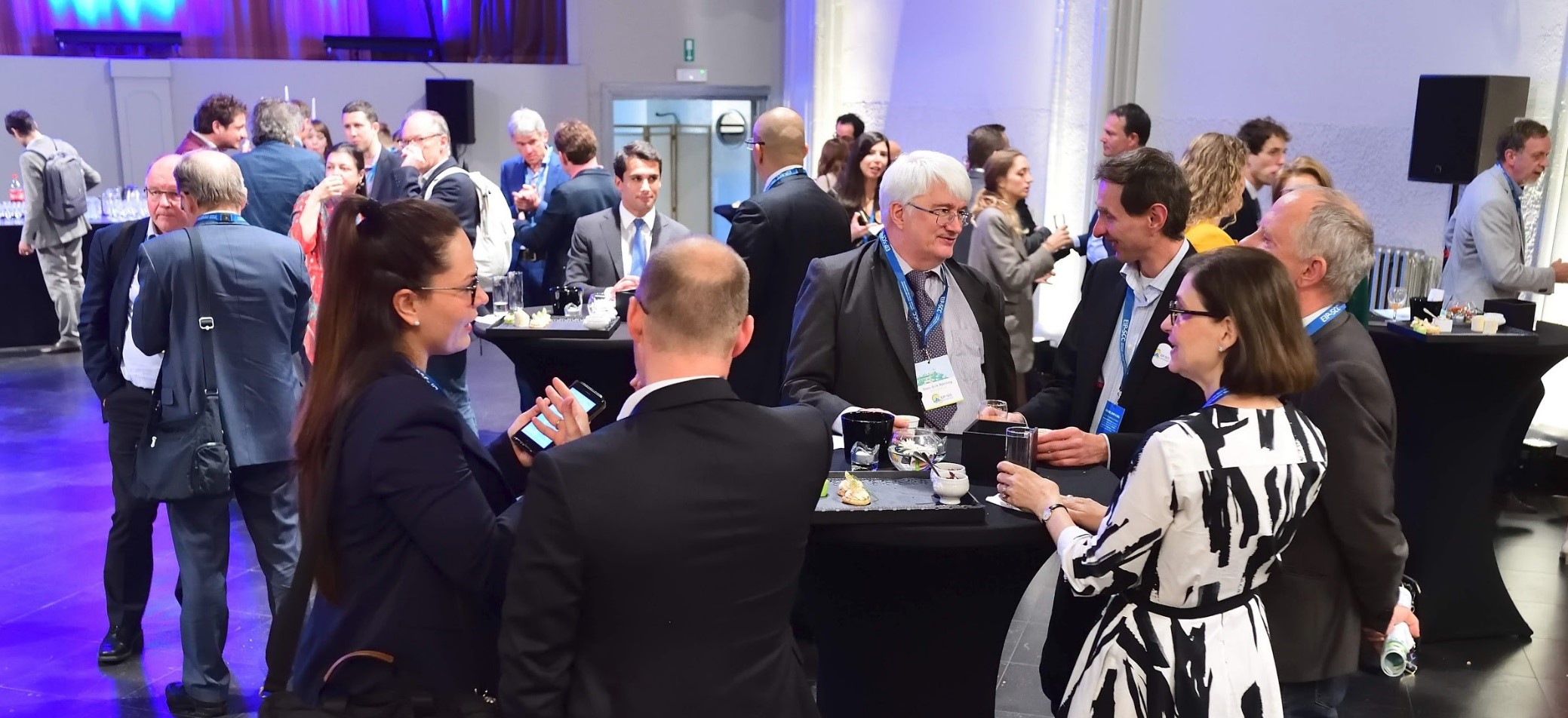 See the full report here.