Space data and signals can help cities in a number of ways, from improving urban planning, to enabling more effective policies to face the effects of climate change.
While we use satellite data daily without even noticing them (for example when we check the weather forecast, or we geolocate ourselves to choose an itinerary on our phone), many city administrators are still not yet aware of how satellite data can help them to better manage their cities and make their more liveable for their citizens.
The Geospatial Cities Focus Group will raise awareness on available geospatial services for cities and will collect feedback from city administrations and service providers on their needs, to jointly discuss how satellite data and signals could help addressing them.
The feedback collected within the Focus Group will be used to design a final workshop advocating for the use and the development of services that respond to cities' needs and that are adapted to the operational processes of public administrations, SMEs and NGOs active in cities.
Why?
The European Union has been investing public funds in satellite infrastructure. Today, the Copernicus programme offers data and services based on satellite imagery that can be used by cities in a number of domains, such as energy, urban planning, soil subsidence monitoring and air quality monitoring, among others.
Galileo is Europe's civilian global satellite navigation system, providing improved positioning and timing information with significant positive implications for many European services and users. Satellite navigation is already used by many European cities to improve public transport, boost green mobility and to support a number of apps allowing to better profit from cities' facilities and to communicate to municipal authorities in real time.
The IRIS² Secure Connectivity Programme will offer enhanced communication capacities to governmental users and businesses, while ensuring high-speed internet broadband to cope with connectivity dead zones. Satellite communication is already used in cities to connect to remote facilities (such as water basins) and to provide reliable communications during emergencies. The EU GovSatcom programme aims at providing secure and cost-efficient communications capabilities to governments to better manage crisis and emergencies.
Some examples
Below are just a few examples of how local authorities can profit from satellites. To see more, visit the Eurisy database of success stories: https://www.eurisy.eu/stories/.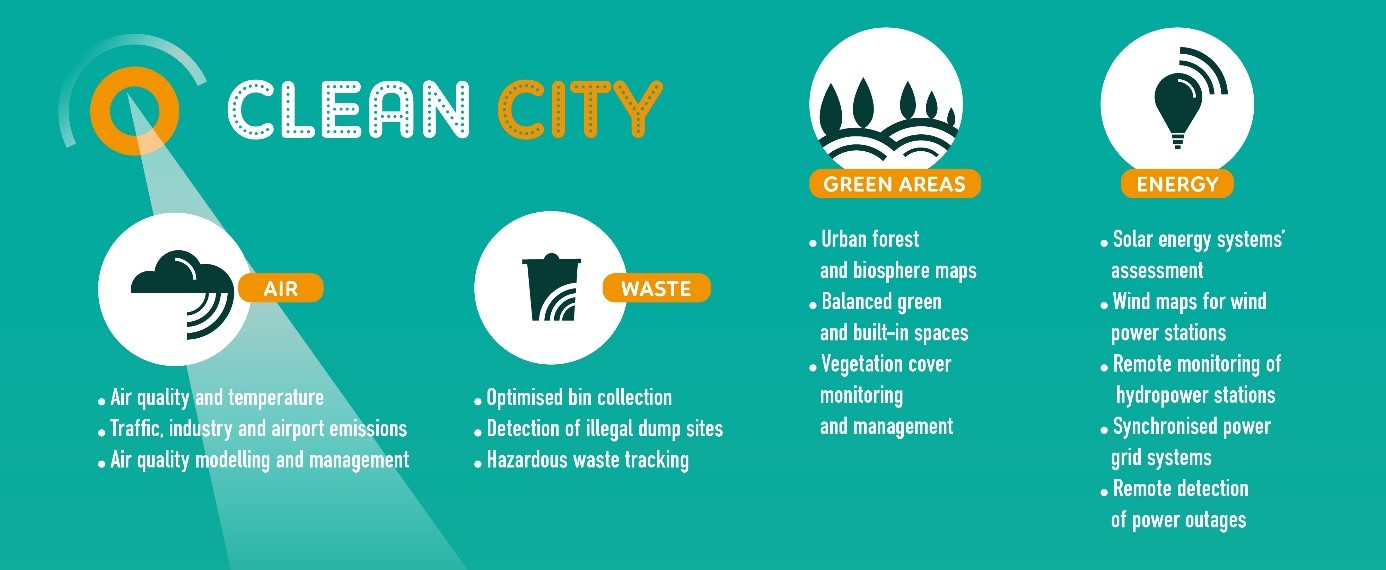 Mitigating the effects of climate change at public transport stops in Prague with the support of satellite Earth observation data.
Because of climate change, temperatures in cities are more and more elevated, causing a phenomenon known as "urban heat islands". Prague makes no exception, with increasing temperatures of up to 34°C in summer, which heavily impact the life of inhabitants and visitors. The Environmental Protection Department of the City of Prague uses Copernicus satellite data to understand which bus and tram stops are becoming too warm, and to then take measures to improve their comfort. You can watch a video here.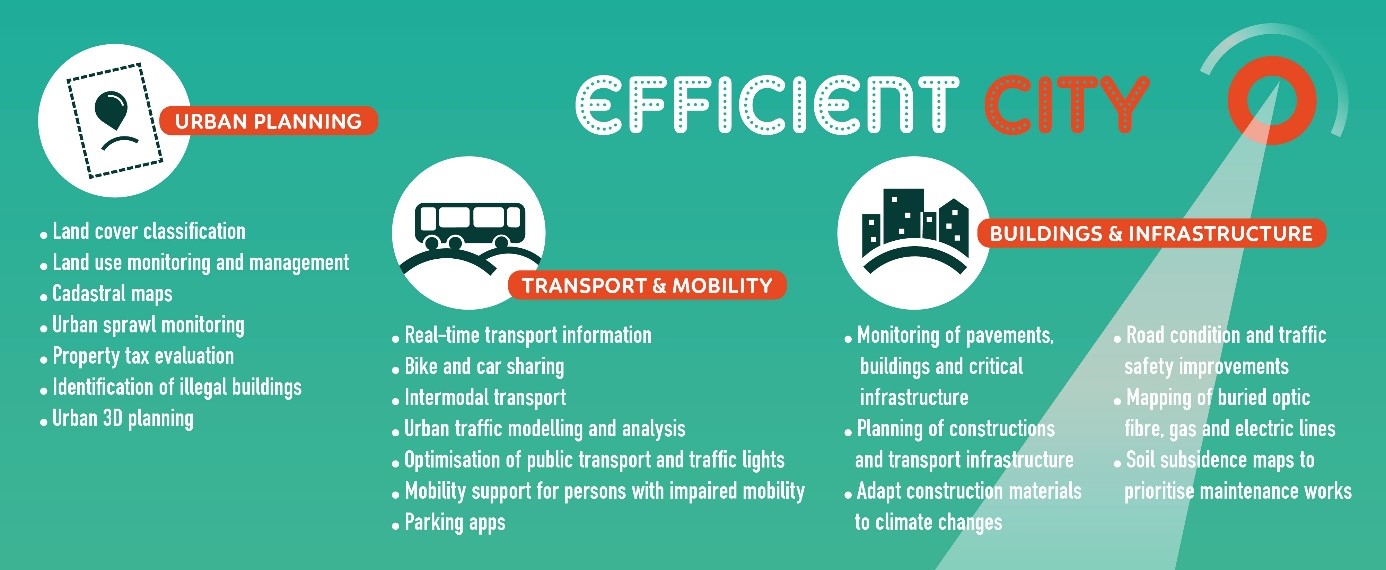 Monitoring and preventing floods in Wallonia with the support of satellite data
In Wallonia, floods represent a very concrete risk. The cost of the floods of July 2021 was estimated between 4 and 6 billion euros, causing human and material losses.
To better prevent and manage flood risks, the Public Service of Wallonia mapped land use and land cover in the region, using aerial pictures, in-situ data and Copernicus satellite imagery. You can watch a video here.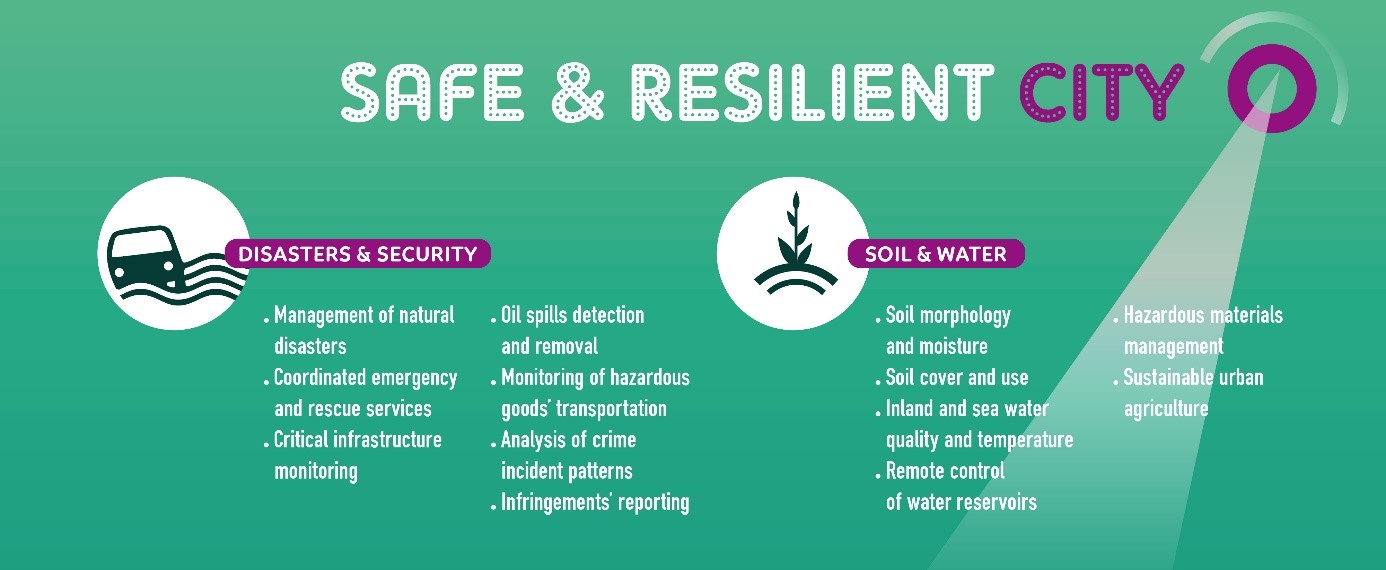 Monitoring water turbidity during the harbour extension works at Port-la-Nouvelle with the support of satellite data
In 2018 the French Occitanie Region started major expansion works in the harbour of Port-la-Nouvelle, which could potentially harm the surrounding environment.
To monitor water turbidity during the works, the Region relied on data from the Copernicus satellites. You can watch a video here.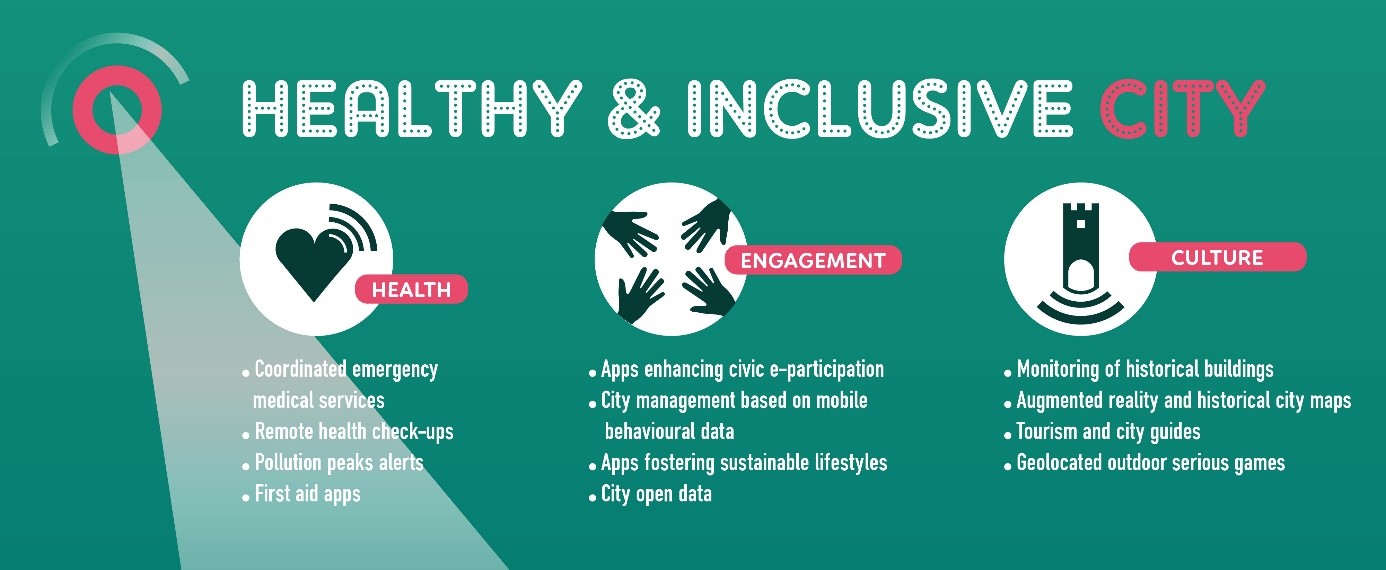 Safeguarding cultural heritage in Rhodes with the help of satellite data
In the Greek island of Rhodes, the Ephorate of Antiquities is particularly concerned about the impacts of geo-hazards on cultural heritage, as the island is subject to soil movements and is situated in a seismic area. In the area of Rodini, some monuments are showing signs of collapse and need to be monitored.
The Ephorate is relying on Copernicus data to monitor soil deformation around the monuments and to plan measures to secure and restore them. You can watch a video here.
Further reading
Ten success stories on the use of satellite applications in cities
Ten concrete examples of use of satellite navigation, imagery and communication to make cities' cleaner, more efficient, healthy and resilient.
https://www.eurisy.eu/wp-content/uploads/2020/09/publications_document-54.pdf
Space for Cities Report: From innovation to operation
The report contains the main messages from the Space for Cities Workshop "From innovation to operation: A talk about concrete uses of satellite data and services to support cities' resilience and sustainability". It covers the opportunities and challenges related to the uptake of operational satellite-based services in cities as presented by the different speakers during the workshop.
https://www.eurisy.eu/wp-content/uploads/2020/11/20201112_-From-Innovation-to-Operation_Report.pdf